As with all fashion, the wedding industry trends change based on the year and the season. In 2012 there were lots of asymmetric styles wedding dresses, nude colour themes and vintage trends, but in 2013 things have changed again and the leading designers have come up with some great, fresh new looks. Here's a look at what the wedding trends will be for 2013:
Hollywood Glamour
Think red carpets and elegant glamour. This trend is all about bold colours red, black and white and big entrances. Wedding makeup imitating that of stars such as Marilyn Monroe and cars that make you feel like a celebrity, this trend is definitely one for those who aren't afraid to make a statement.
Source: http://www.cakestudio.ca/wedding-cakes.html
Vintage style dresses
Dresses with high necks, lots of lace and potentially feathers will be gracing the catwalks and aisles this year. Kate Middleton definitely set a trend with her vintage inspired wedding dress in 2012 and brides especially seem to be embracing the more modest styles.
Source: http://www.weddingideasmag.com/
Emerald Wedding Colours
Green is all the rage this year and hints of emerald in wedding themes are especially beautiful for the Spring/Summer seasons. The accent colour in bridesmaid dresses, flower bouquets and table decorations adds class and a romantic atmosphere to your special day.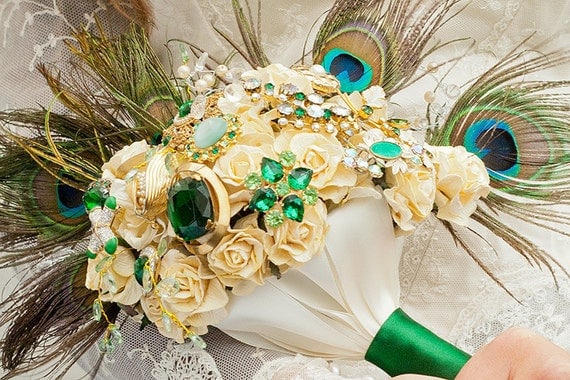 Source: http://www.etsy.com
This guest post was contributed by Holly Powell on behalf of Elegant Steps, wedding shoes specialist and online store.